Kitchen Worktops Doncaster
Diamond Worktops provide the best Granite, Quartz and Solid Surface worktops for all our Doncaster customers. We have high-quality products that are affordable, thanks to our close relationships with our loyal suppliers, who offer lower prices on their goods. Our staff is knowledgeable in all of your unique needs so you can find a product that will fit seamlessly into your home's interior design no matter what type of budget you're working within.
Kitchen worktops are some of the most important features in your kitchen. Already available in a variety of materials, it can be difficult to choose which best meets your needs and price range.
One thing is for certain: not every type will suit everyone's style or budget so this decision should not be taken lightly! While the more cost effective solid surfaces may seem like the least expensive option at first glance, quartz and granite tend to have more durable surfaces that last longer with minimal maintenance required over time.
If durability doesn't matter much but saving money does then consider choosing from one of these options instead- they also come in an assortment of colors as well making them perfect for anyone looking to make their space unique without breaking the bank!
Why Settle For Anything Less Than The Best?
Choose Diamond Worktops, as we are a dedicated family business with over 25 years of experience in designing and installing luxury bespoke kitchen worktops for our clients throughout the Doncaster and surrounding towns and village, we will provide you with a competitive quote to install your choice of solid surface, granite, Dekton, Corian or quartz for your residential or commercial premises.. All we need is some basic information about what colours would complement your kitchen and arrange a Free consultation appointment – get in touch today!
Since we don't have a showroom, our costs are lower and we pass those savings on to you. We can supply and fit any granite or quartz work surface with stunning designs in striking colours. Whatever your kitchen needs may be, we will help guide you towards the perfect countertops for your dream kitchen! Call us anytime, we love talking worktops!
Fully Qualified Tradesmen
Diamond Worktops is run by tradesmen who have been working in the industry for many years. Because of our expertise and product knowledge our kitchen worktops are second to no one. You will be guided and taken care of from your initial contact and you will always be in good hands.
Best suppliers
Working with some of the best suppliers and top brands in the business we have worked on residential and commercial projects in Doncaster and throughout South Yorkshire. We created this business so we can offer quality bespoke solutions for tailored made kitchen worktops, surfaces and countertops to the local people of Doncaster, at affordable prices and satisfaction that the job would be completed to high-level. Call us first and get the job done right.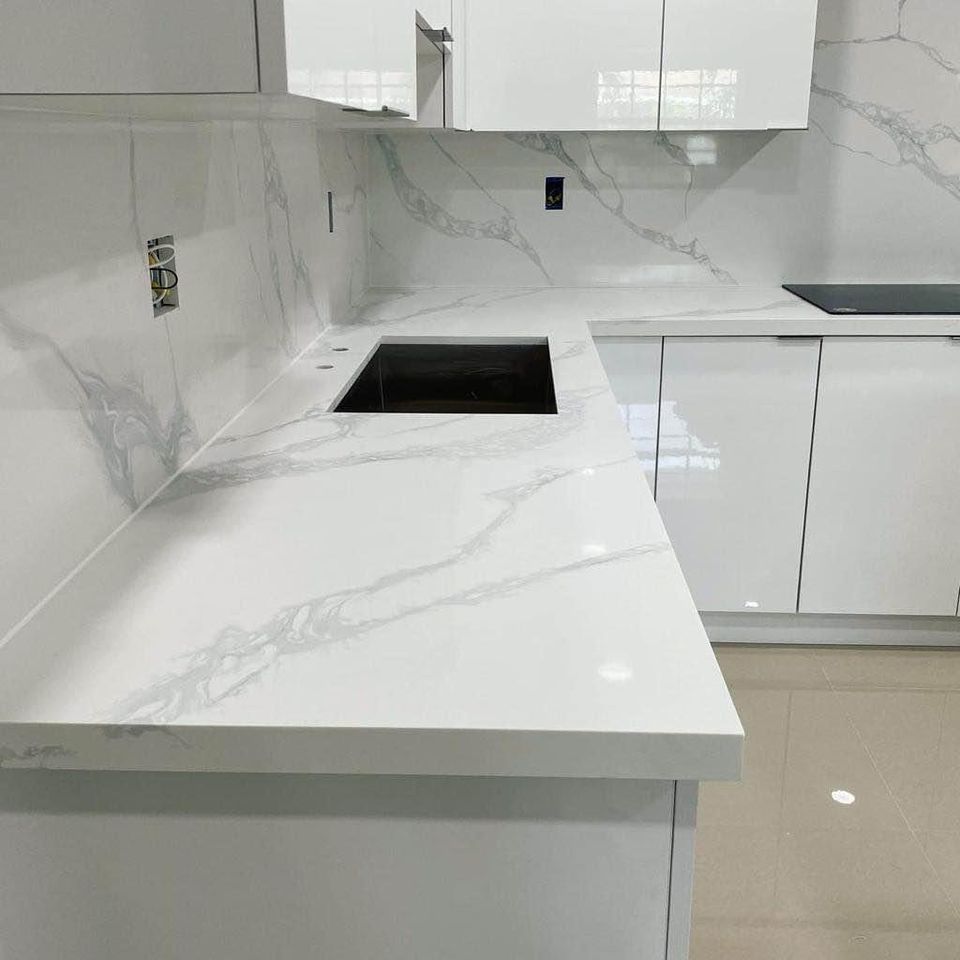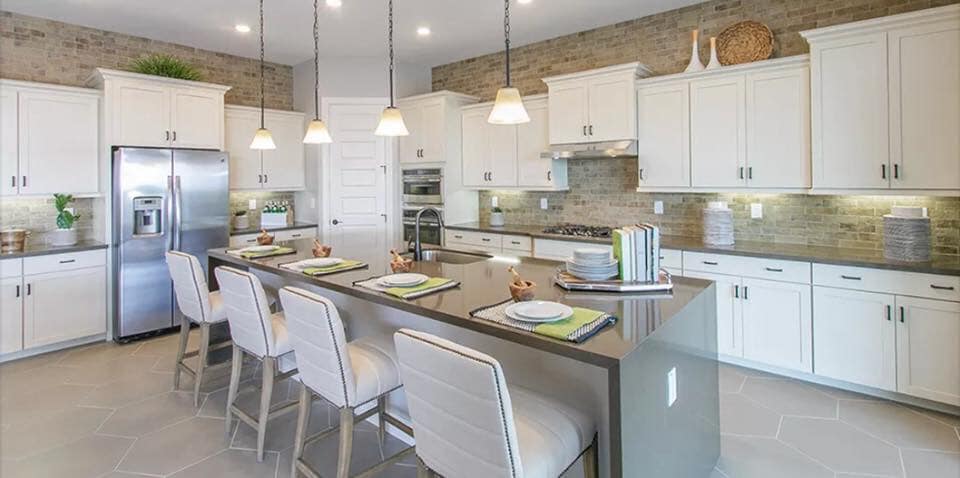 FREE Initial consultation
Bespoke Worktop Transformations
Professional Installations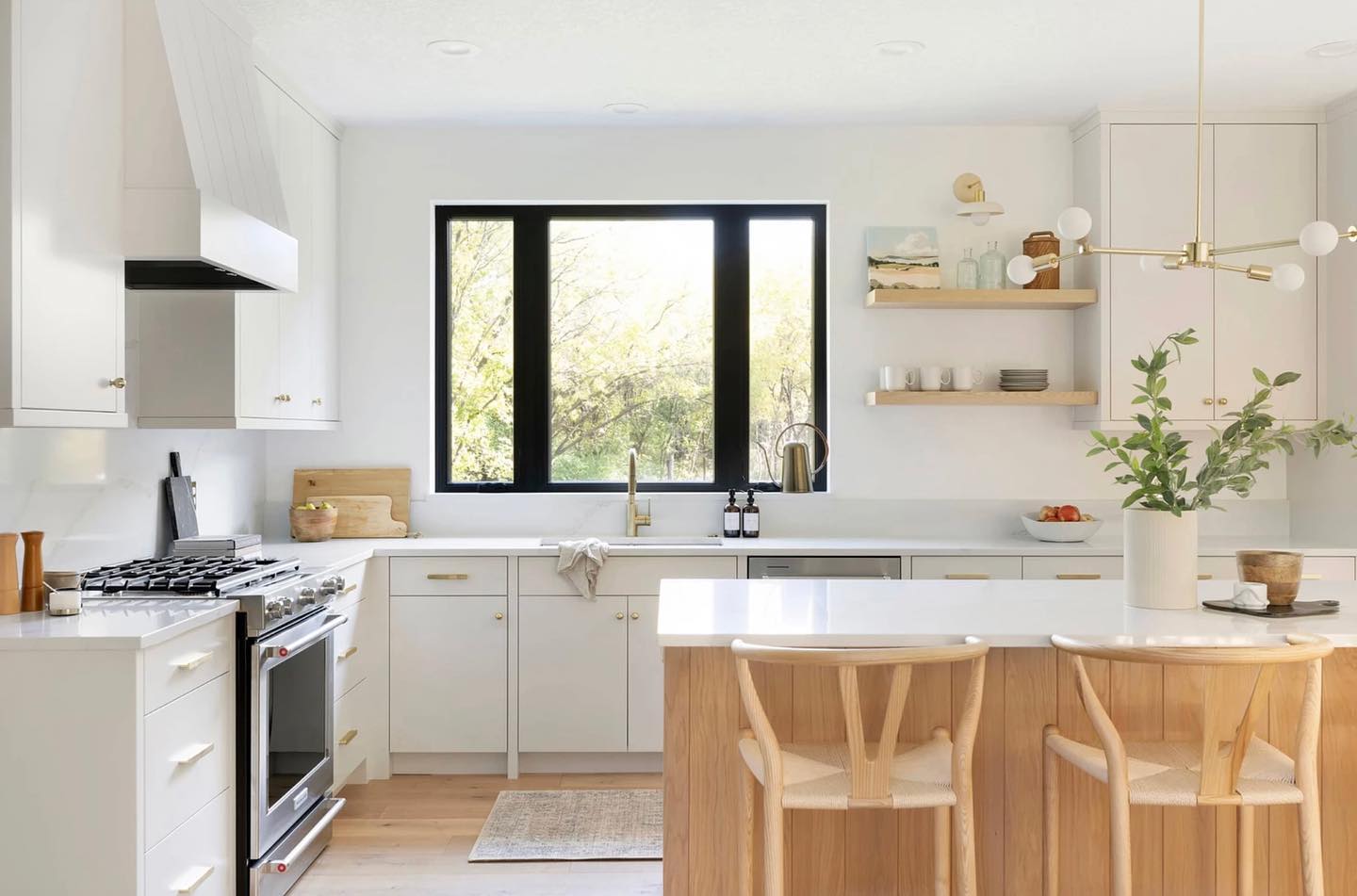 Solid surface kitchen worktops are the latest trend in fitted kitchens. Unlike traditional stone, these counters mimic both the appearance and feel of a genuine countertop without any wear or tear that can be caused by heat or sharp objects such as knives. These surfaces come with an almost unlimited range of colours to help you create your perfect palette for your new space; from light blues, yellows and greens through muted oranges all the way up to deep reds – there's something for everyone!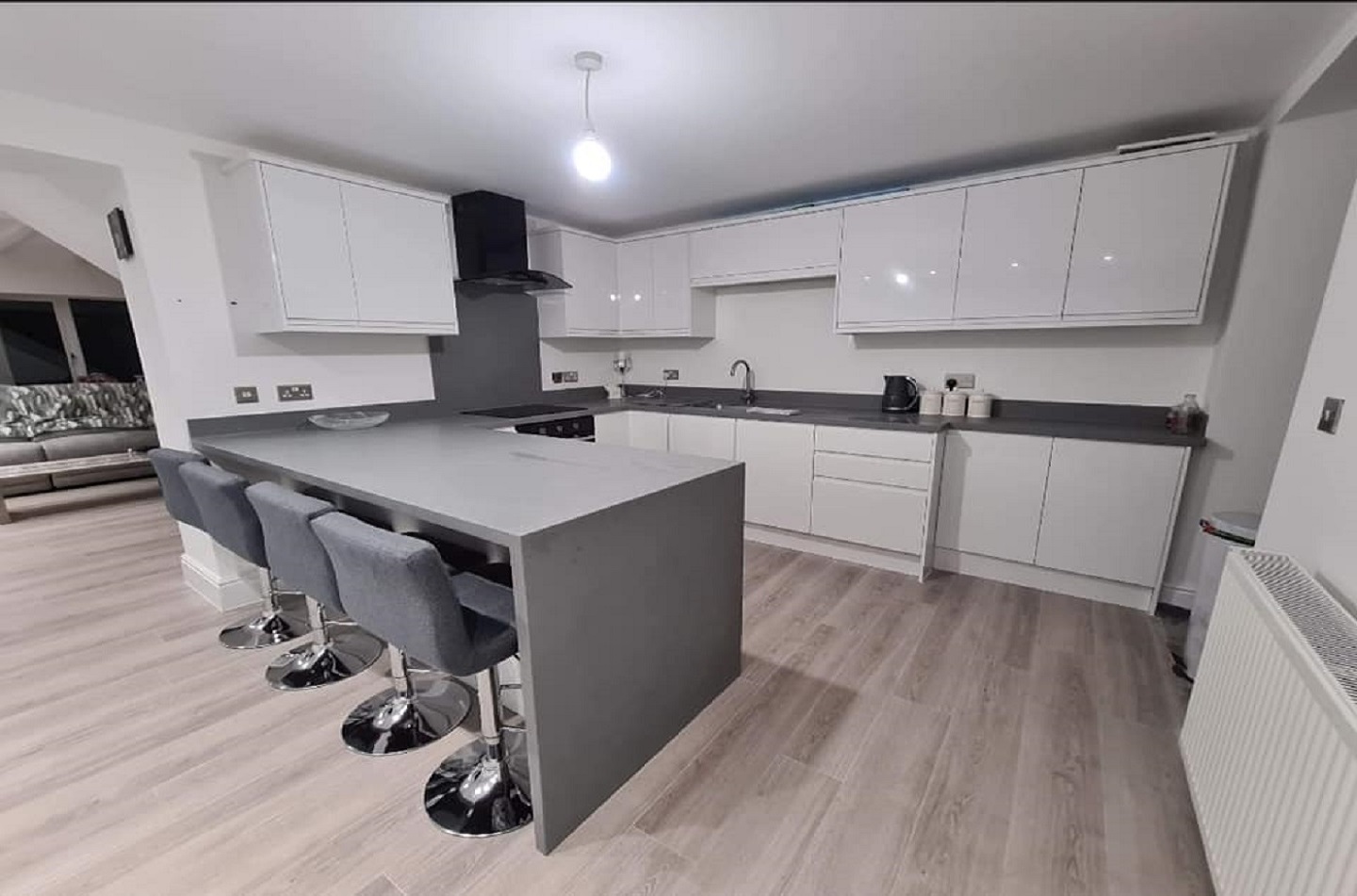 The durable Dekton material has been used in kitchens for years, but now, they are a popular choice because of the total freedom and creativity that designers have with them. Not only can you find ultra-sizes available in this unique material so there is no need to cut out anything or put joints together like other materials require; it also provides an extremely clean feel which makes it easy to keep your kitchen tidy and organised.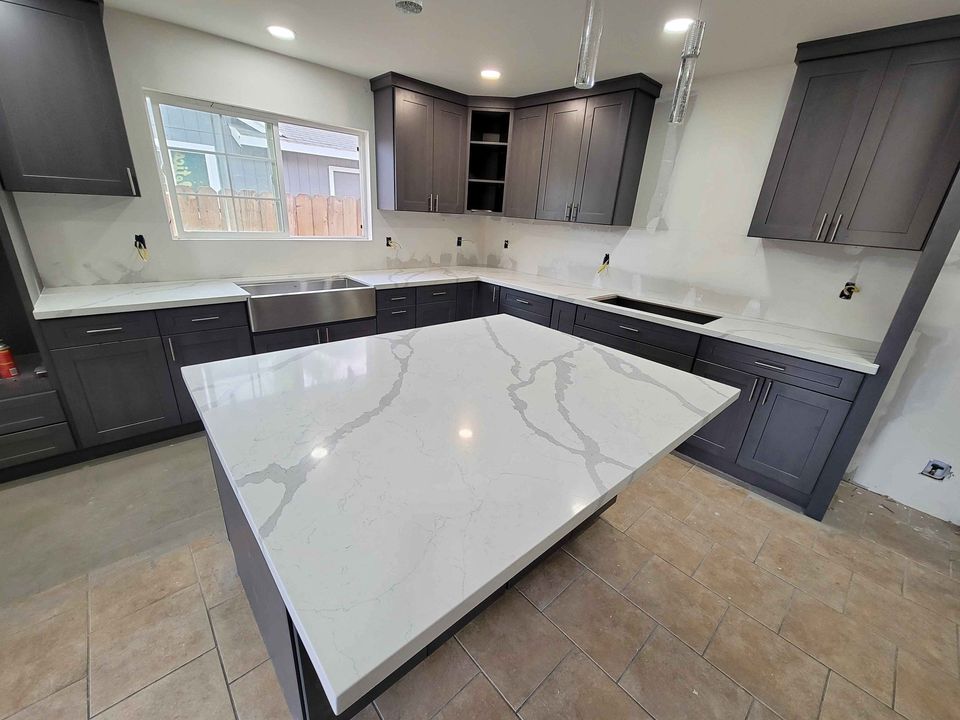 Granite is an exquisite luxury material, with colours that are rich and exotic. It's a timeless stone for your kitchen countertops; granite will last you a lifetime. Granite has unique features, every piece of this natural wonder comes out differently each time it's cut- no two pieces alike! The veins in the rock vary letting the beauty of nature shine through without sacrificing durability or strength (granites high gloss surface when polished). This makes them uniquely suited to kitchens as they come into contact with food items on a regular basis but do not stain easily nor chip like other materials can over time.
Granite Worktops are stunningly beautiful and always unique.
Granite Worktops are heat Resistant. Your kitchen will stay cool.
Granite Worktops don't not need polishing. They always look fantastic!.
Granite is a very Hygienically Clean Surface. They do not Harbour Germ colonies.
Granite is a Low Maintenance Luxury Kitchen Surface that adds Value to your Home.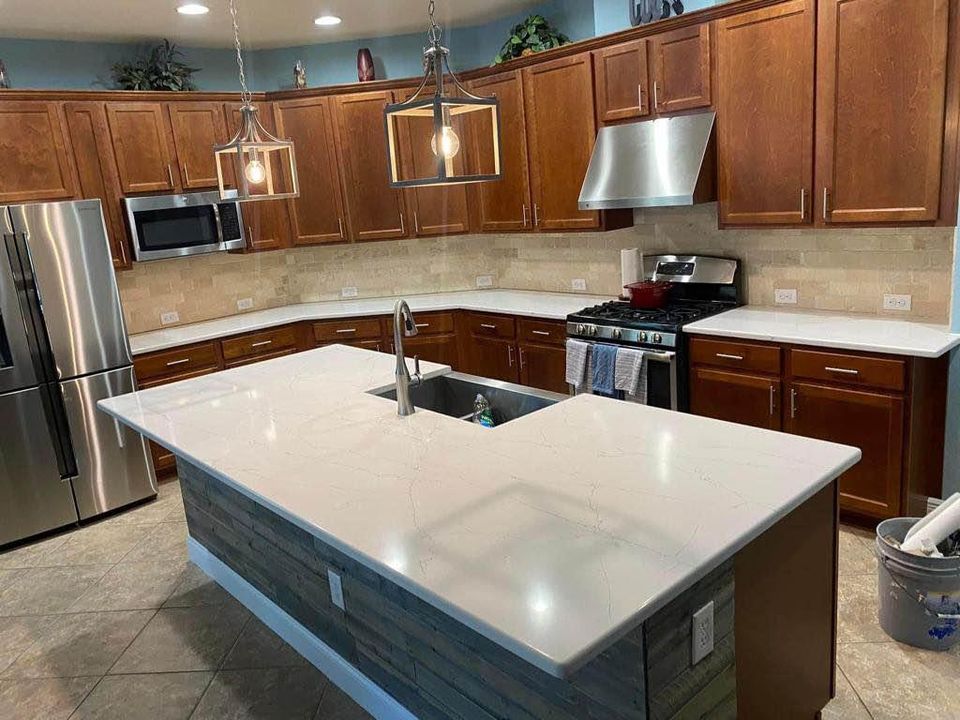 Our Quartz kitchen work surfaces are a beautiful alternative to granite, without the typical maintenance. They're made from 93% quartz and 7% polymer resin, making them a more practical and durable solution! With their look and feel of natural stone products, and with the added benefits such as consistent vibrant shades, speckling, faint lines or modern concrete colouring options that will fit any modern or contemporary kitchen decor style – Quartz material is truly an engineering gem for your home's kitchen worktop surfaces or kitchen Islands.
Quartz Worktops are very strong and robust.
Quartz Worktops do not easily stain
Quartz Worktops only need warm soapy water and a soft cloth to keep clean.
Quartz Worktops are a wise and cost-effective choice for a stylish kitchen surface.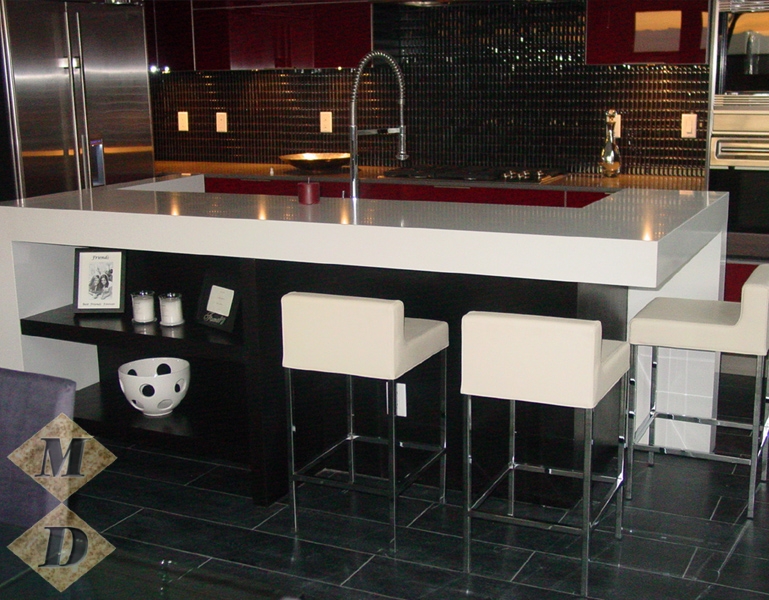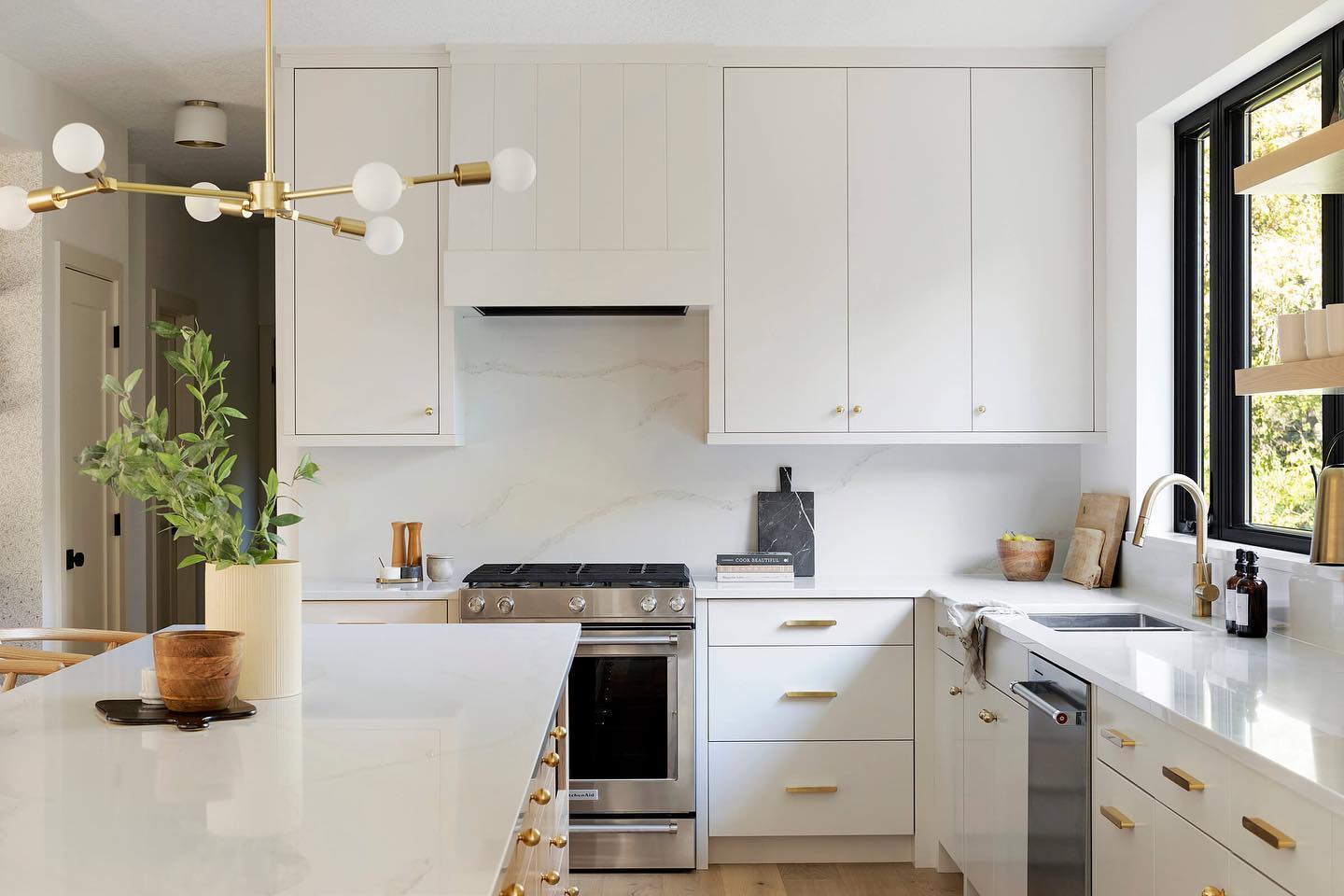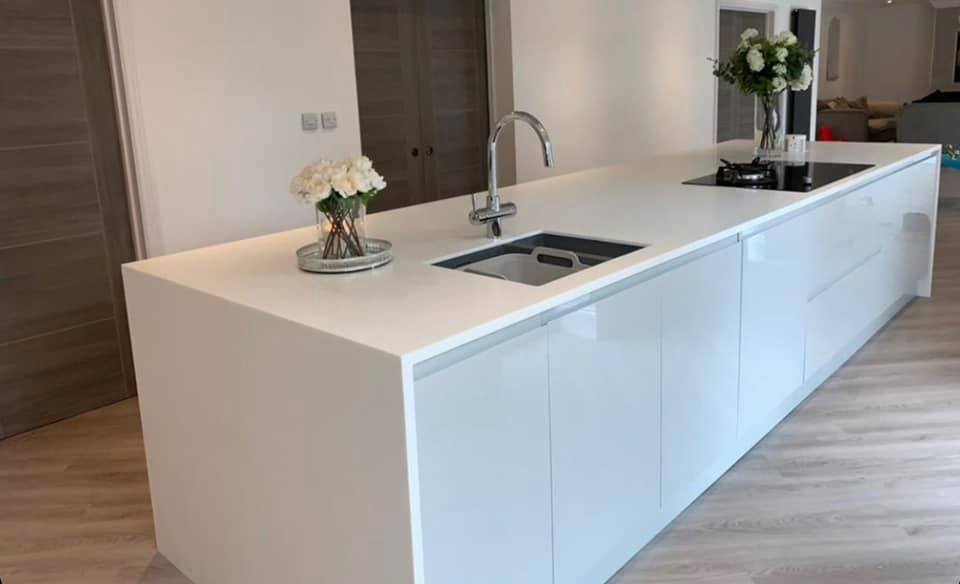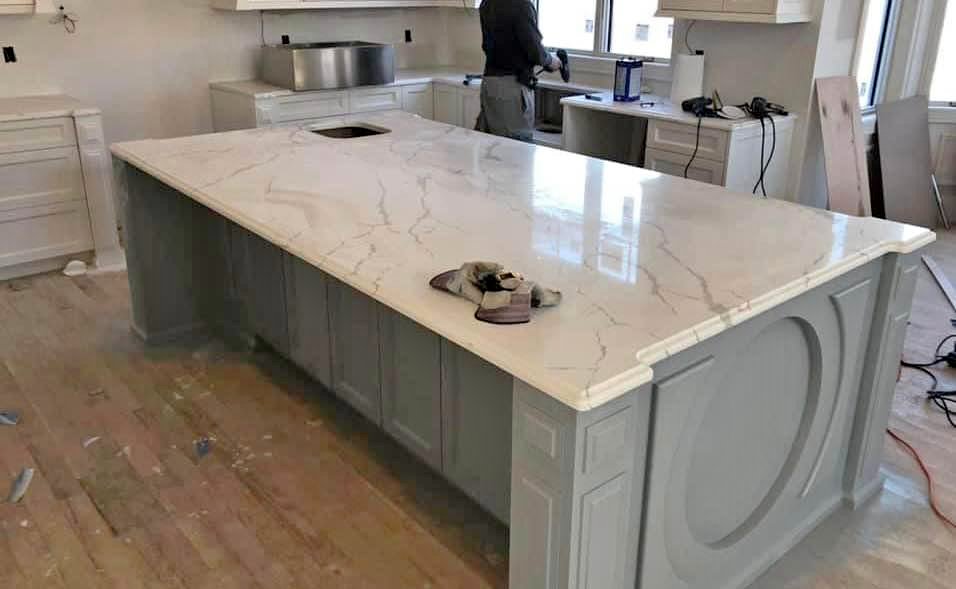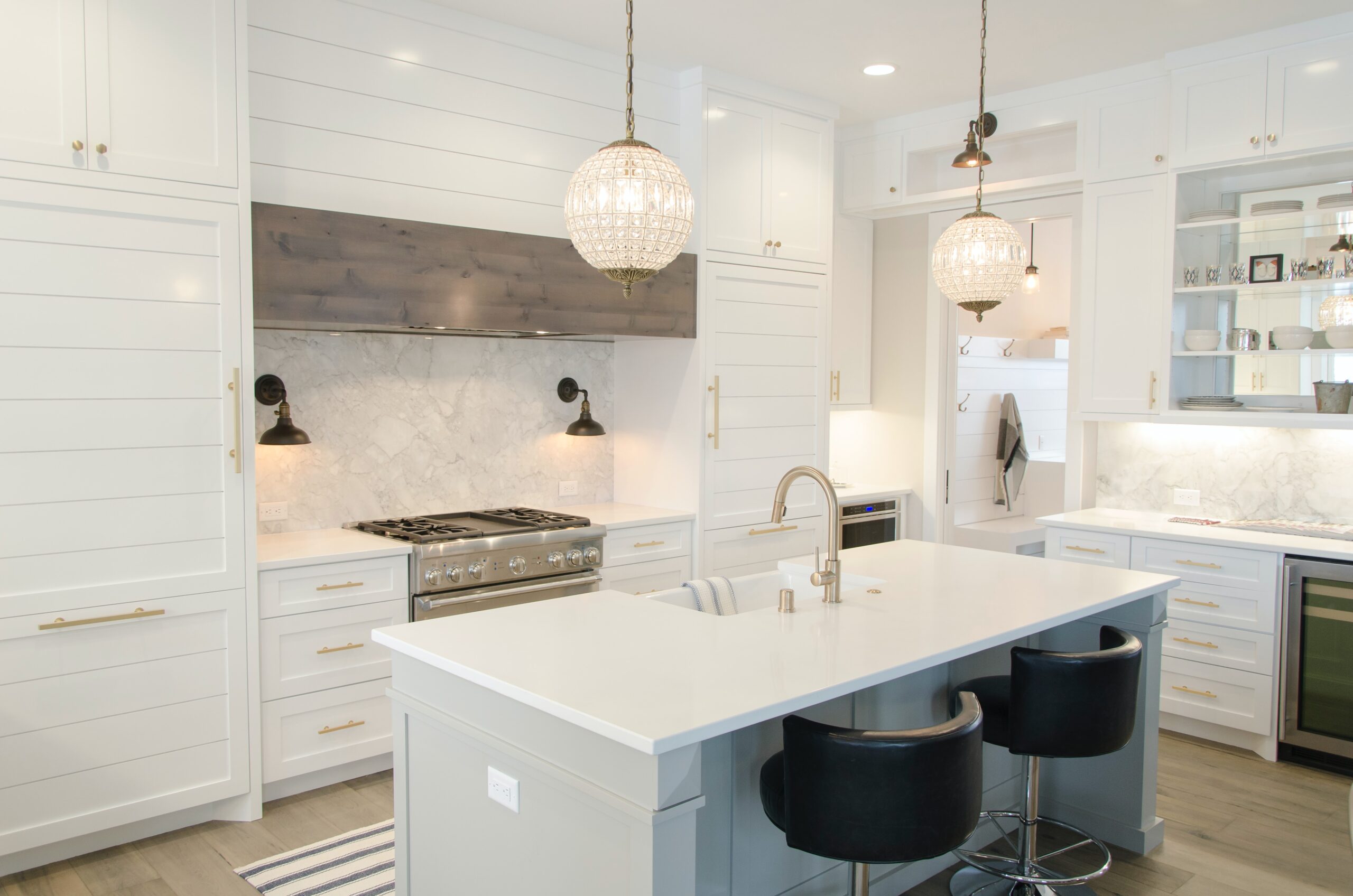 Get your new kitchen worktop supplied and fitted on time!
On Budget!
Absolute Satisfaction Guaranteed!
We'll come to your property and measure up the kitchen for a FREE quote on all our solid surface worktops!
Alternatively, we're happy to provide quotes outside of our locality by sending you an accurate measurement based off a plan
that is emailed over.
Just let us know if there's anything else you need in order to help get your kitchen worktop project underway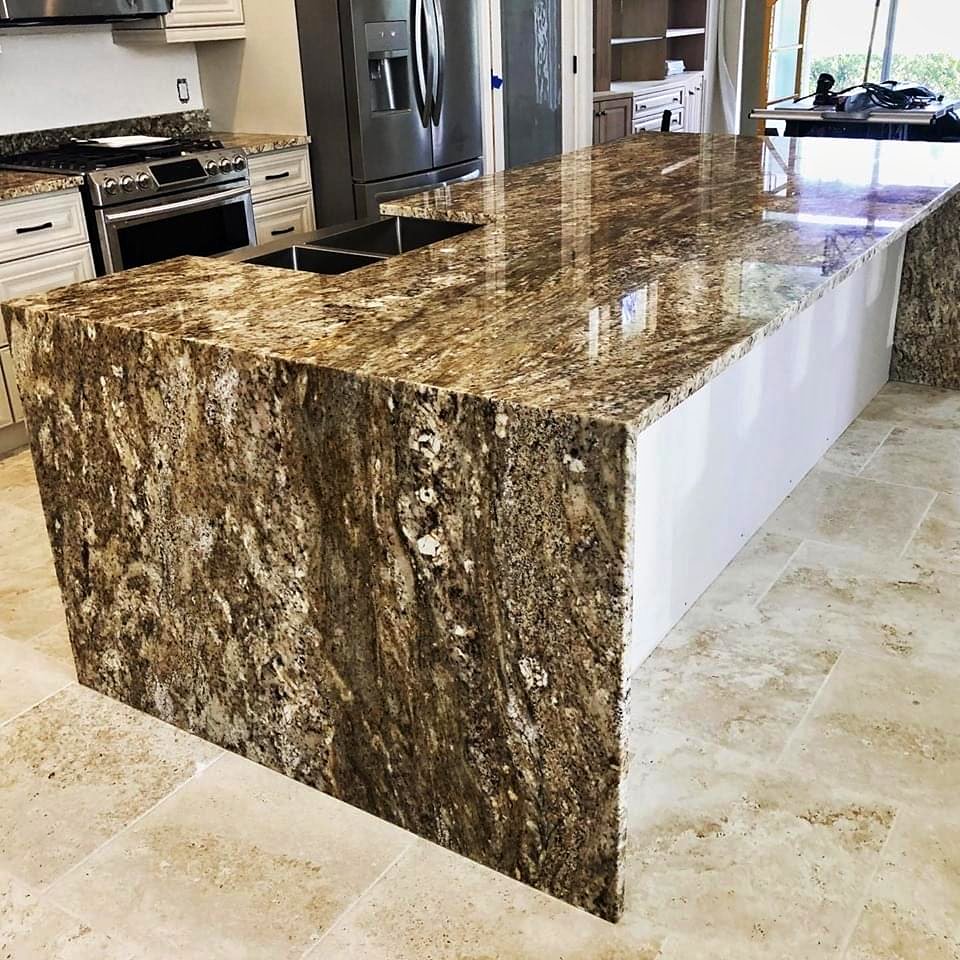 "When I was looking for a solid surface kitchen worktop,  it seemed like every time someone said they could help me out or give me some advice Andy's name would come up. He is an expert and knowledgeable on worktops and gave me loads of advice before I eventually chose solid surface as opposed to granite. Me and the wife are over the moon with our finished L shaped kitchen. I would honestly recommend anyone in the Doncaster area, as I already have done. Professional service and such a friendly guy. Thanks."
"Diamond Worktops looked after us from day one, Great company to deal with customer service and product! We ordered quartz worktops in the end for our new kitchen including the full installation service. They came out to do a template for us, as I did not feel confident to do by myself. The Installation man was very helpful, as he advised us on all the things that we never thought about. The fitting went well and looks seamless throughout. They even advised us on how to take care of our quartz worktops to keep them in top condition. Nice lads who knew their trade. Professional tidy and neat. Much obliged."
"I've used Diamond Worktops in Doncaster on a couple of occasions, and always been impressed with the way they go about their business and service. The piece of Granite I ordered was cut to perfection and has really complimented my old kitchen cabinets. Could have spent a fortune on a new kitchen but these expertly crafted worktops have done the trick. Great service and lovely job! Eternally grateful."
Frequently asked questions
What is the cheapest way to redo kitchen countertops?
There are several creative ways to redo kitchen worktops. In this article, we provide various ideas as we discuss the cost of kitchen worktops.
What Worktops Are Best For Kitchens?
We have many different kinds of natural and man-made materials available for your approval, such as scratch-resistant, water-resistant and heat resistant surfaces to choose from. They all come with a guarantee which varies depending on the type you are looking at – specialist or non-specialist? Non-specialist types can be measured in advance while specialists need templates before anything can happen so they tend to take longer but also offer better protection against wear and tear over time. Our helpful team is always on hand to discuss your requirements and tailor a kitchen worktop solution especially for you.
What Are Solid Surface Worktops?
Solid surface worktops are the more affordable alternative to quartz or marble and can come in any design. They're flexible, functional, a kitchen's best friend. Completely customisable to any shape or design, solid surface materials are a very flexible option, making them a valuable solution for your kitchen worktops and surfaces.
What Is The Toughest, Granite Or Quartz?
On the mohs hardness scale, quartz is around 7 while granite is around 6 making them both extremely tough materials that will last for years.
How Long Does It Take From Ordering My Worktop To Completion?
Depending on your worktop requirements we can usually turn around and offer the installation of your new kitchen worktop or surface between 7-10 days after the Free consultation and producing a template. This can sometimes be slightly longer during busy periods.
Can You Just Replace Kitchen Worktops?
Yes of course you can, that's exactly what our business is based around. Best way forward is to contact us and book one of our Free consultations. We can visit your home and assess your situation and match the right material for your kitchen worktop and personal taste and needs.
Are Solid Surface Worktops Cheaper Than Granite, Quartz Or Dekton?
Not necessarily, as there are other considerations to take into account, such as fabrication costs. Each material has its own advantages and disadvantages. One of them being maintenance and overall lasting qualities. Granite would certainly last longer but requires some taking care of, on the other hand a solid surface needs minimal looking after. They both look great in any home kitchen, but granite would certainly add slightly more value to your property.
What's The Difference Between Quartz And Granite?
Granite is natural and is porous, Granite is sealed before it leaves the factory to protect against staining. Quartz is an engineered stone.
What Is The Hardest Wearing Kitchen Worktop?
Dekton is a very strong material and a long-term worktop for those that want to have an aesthetically pleasing kitchen. Not only does it stand out from the crowd, but also stands up against any other material we've seen so far when it comes to toughness and pure durability qualities. It's the perfect combination for those with busy lifestyles who need a tough surface which will be resistant enough over time without compromising on style or design principles.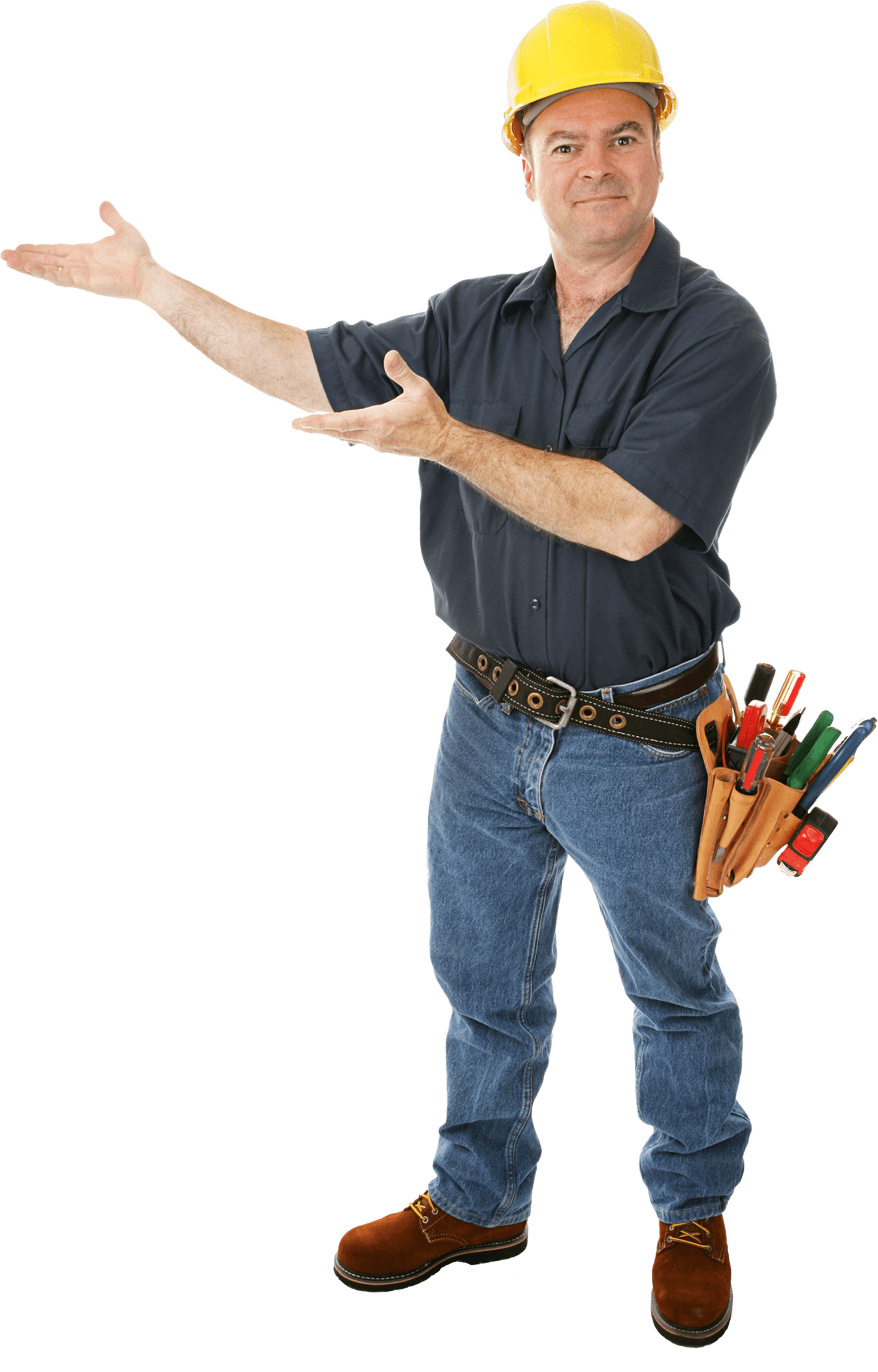 Schedule An Appointment
Or Get an Instant Quote
Visit Us
Doncaster, United Kingdom
Message Us
hello@kitchenworktopsdoncaster.co.uk